Een binnenklimaat voor 99,97 procent ontdaan van pollen, fijnstof, bacteriën, virussen, toxische stoffen, onaangename geuren, …. Het kan met luchtreiniging die gebaseerd is op meertrapsfiltratie met onder meer medische klasse HEPA-filtratie, UVGI-ontsmetting en ionisatie.

Exclusief aanbod voor AVS-leden:
5 procent korting op de aanschafprijs!
Informeer ook naar onze rentevrije lease-optie bij aanschaf van een groot aantal apparaten.
Air cleaning prevents the spread of
Het antwoord op de meest gestelde vragen vind je hier:
What makes AIR8 air cleaners so good?
One HEPA filter is not like another
HEPA is an abbreviation for high-efficiency particulate air and stands for air filters that capture a minimum of 85% of all dust particles from 0.3 micrometer (µm) upwards. Incidentally, particles smaller than 0.3 µm are also captured better than the indicated percentage, but that is a very technical story. It is important to know that there are different classes of HEPA filters.
HEPA filter classes
| | |
| --- | --- |
| HEPA class | Retention (total) |
| E10 | > 85% |
| E11 | > 95% |
| E12 | > 99,5% |
| H13 | > 99.95% |
AIR8 air cleaners use HEPA H13 filters, which is exceptionally high compared to many other air treatment systems.
These situations call for a higher air cleaning factor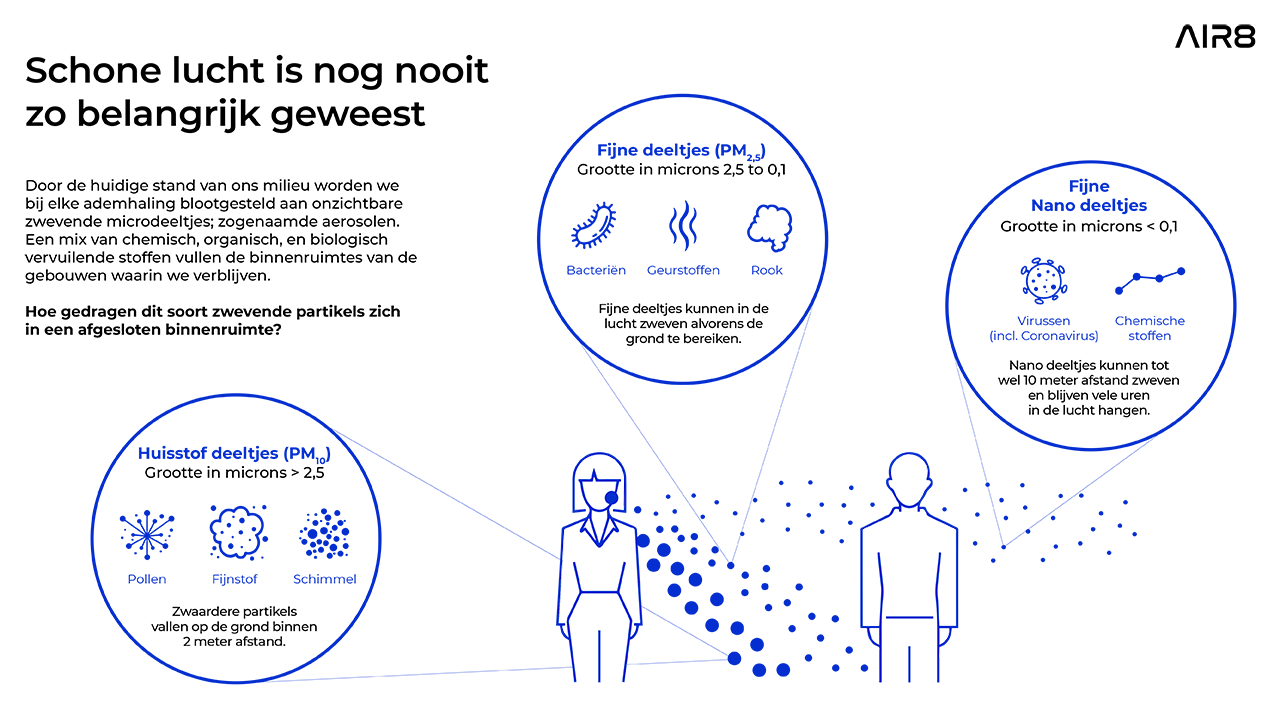 Het belang van schone lucht
The air in an office or classroom can easily contain five times as many harmful substances as the air outside. Adequate ventilation is therefore important. But when it is cold outside, the windows often remain closed. In addition, the outside air dilutes the amount of harmful and undesirable substances in the inside air, but does not remove them.
With the increased attention to pollen allergy, the harmful effects of fine dust and the spreading of germs such as the coronavirus via aerosols, there is a great deal of interest in air cleaning in commercial buildings, offices, restaurants, treatment centres and schools. The high costs of a central air-conditioning system are often a problem. However, there is a much simpler, cheaper and more effective solution in the form of mobile air cleaners.
De moderne luchtreinigers halen ruim 99,9 procent van de verontreinigende en ziekteverwekkende deeltjes uit de binnenlucht en maken deze onschadelijk. De technologische ontwikkelingen hebben geleid tot apparatuur die een beperkte investering vragen, weinig onderhoud vergen en plug & play direct zijn in te zetten voor een optimale luchtreiniging.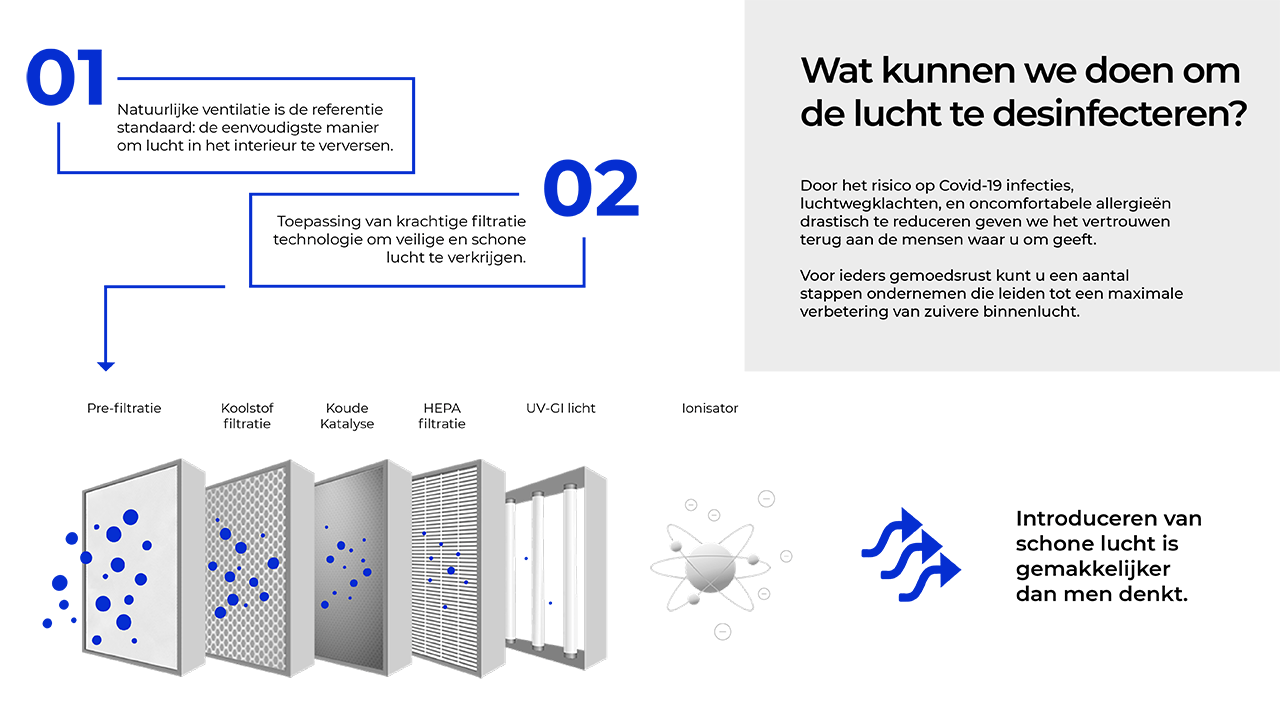 Optimale luchtreiniging in 6 stappen
Rentevrije lease-optie en zorgeloos onderhoud
Overweegt u de aanschaf van een groot aantal apparaten, maar houdt het investeringsbedrag u tegen? Wij bieden u een rentevrije lease-optie aan!
We can also take care of the maintenance for you. This in itself is a simple operation with our complete filter packages, but we can also come and do it for you and check the air cleaners once more.
For more information, you can contact our advisers.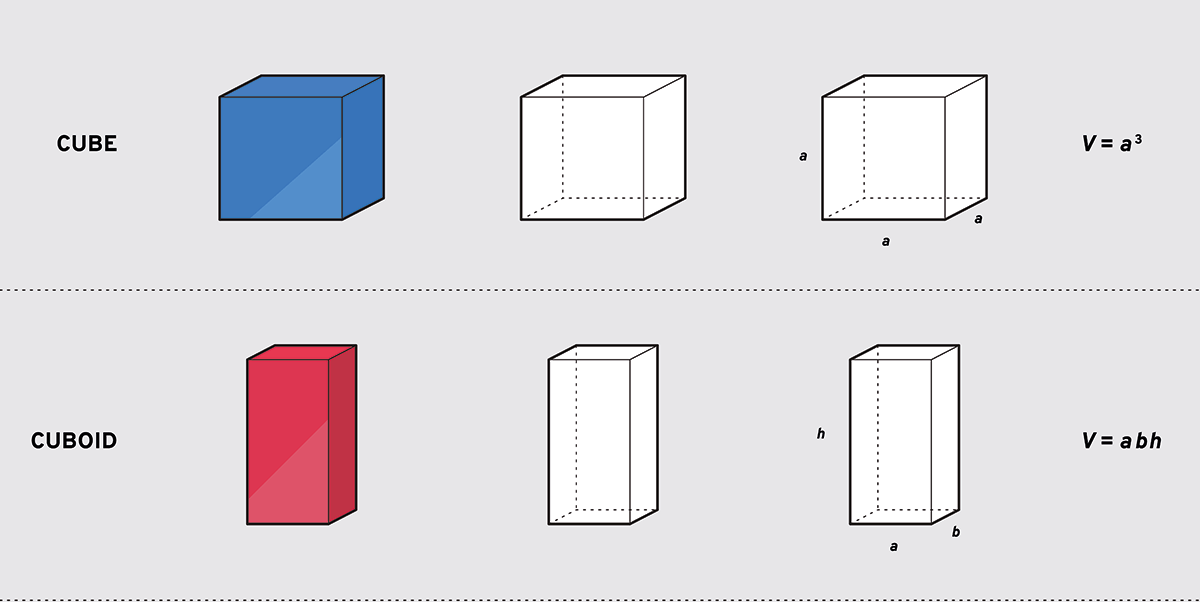 Zo bereken je de benodigde luchtreinigings-capaciteit
Om te bepalen welke capaciteit luchtreiniger(s) je nodig hebt is naast de inhoud van de ruimte ook Air Changes per Hour (ACH) belangrijk. Het aantal maal per uur dat de lucht in de ruimte gefilterd en ontsmet moet worden is afhankelijk van het aantal mensen dat gemiddeld in de ruimte aanwezig is en eventuele omstandigheden waarin sprake is van extra vervuiling. Denk bijvoorbeeld aan tandartspraktijken waar een bovengemiddelde hoeveelheid aerosolen (hele kleine waterdruppeltjes) rondzweeft. Meer uitzonderingen vind je in de linkerkolom.
In most cases, you can work with an ACH of 4, as advised by Harvard Healthy Buildings (authority in the US) and the World Health Organisation (WHO). The capacity calculated in this way is usually above the Buildings Decree 2012 standard and the Occupational Health and Safety Act standard, because these take into account the occupancy rate in a room. However, this has the risk that, with relatively few people in a room, not all the air is drawn in by the air cleaner, resulting in dead spots where the air does not circulate sufficiently.
Multiply the ACH of 4 by the volume of the room in cubic metres and you get the required air cleaning capacity.
Luchtreinigingscapaciteit AIR8 modellen
For our models, this means the following:
26oi NANO - capacity = 260 m3/hour - divided by 4 this means suitable for a room up to 65 m3. With a standard ceiling height of 2.5 metres, this means a floor area of 26 m2 (e.g. 4 x 6.5 metres).
280 NANO - capacity = 280 m3/hour - divided by 4 this means suitable for a room up to 70 m3. With a standard ceiling height of 2.5 metres, this means a floor area of 28 m2 (e.g. 4 x 7 or 5 x 5.5 metres).
720i EDGE - capacity = 720 m3/hour - divided by 4 this means suitable for a room up to 180 m3. With a standard ceiling height of 2.5 metres, this means a floor area of 72 m2 (e.g. 8 x 9 metres). This model has no UV disinfection, but does have the high filtration rate of 99.97%.
1200i PRO - capacity = 1200 m3/hour - divided by 4 this means suitable for a space up to 300 m3. With a standard ceiling height of 2.5 metres, this means a floor area of 120 m2 (e.g. 10 x 12 or 6 x 20 metres).
These companies are working towards a healthy working environment