Mobile air cleaners: frequently asked questions
Is it necessary to purchase a mobile air purifier? What does an ionizer do? How much technical knowledge do I need? Does the AIR8 air purifier help against corona? How often should I replace the air filters? How much noise does the device make? Here you will find the answers to frequently asked questions about mobile air cleaners.

What makes AIR8 air cleaners so good?
One HEPA filter is not like another
HEPA is an abbreviation of high-efficiency particulate air and stands for air filters that capture between at least 85% of all dust particles of 0.3 micrometer (µm). Moreover, particles smaller than 0.3 µm are also captured better than the indicated percentage, but that is a very technical story. It is important to know that there are different classes of HEPA filters.
HEPA FILTER CLASSES
| | |
| --- | --- |
| HEPA class | Retention (total) |
| E10 | > 85% |
| E11 | > 95% |
| E12 | > 99,5% |
| H13 | > 99,95% |
AIR8 air purifiers use HEPA H13 filters which is exceptionally high compared to many other air treatment systems.
Air cleaning prevents the spread of
Does the AIR8 mobile air purifier work against corona?
We guarantee the highest efficiency in killing bacteria and viruses (such as the coronavirus) by applying multiple filtering and disinfection technologies. Our medical grade HEPA NANO filters remove 99.97% of all harmful particles from the air.
Nobody can give a one hundred percent guarantee, not even the manufacturers of the corona vaccines. Therefore, it remains important to maintain the hygiene measures recommended by the government. Here too, we at Portaal Check can help with our Fever detection systems and hygiene columns.
How complicated is the installation?
You take the mobile air purifier out of its packaging, put the plug in the socket and press the on button. That's all it takes. See the instruction videos here. (ps: we already remove the plastic from the filter package for you
. Really plug&play
.)
Do you need a mobile air purifier even if the windows can be opened?
Good ventilation with outside air is an important tool for a healthy working and living environment. However, opening windows does not guarantee that the fresh air will spread throughout the room. In the winter, airing the room leads to (considerably) higher heating costs. In addition, you can actually bring polluted air in this way; think of pollen and particulate matter.
We already have a central air conditioning system. We could have it modified, couldn't we?
Mobile air cleaners require a much lower investment than retrofitting a central air handling unit. Also the operational and maintenance costs are significantly lower.
Research has shown that the maintenance of air treatment systems often takes place too little and too late. An AIR8 mobile air purifier indicates that you should replace the filter package and you can easily do this yourself.
A mobile air cleaner purifies the air where it is needed and, if the capacity is chosen correctly, does not suffer from dead zones where the air does not circulate. With a central air treatment system, this shortcoming cannot be avoided.

AIR8 mobile air cleaners not only filter germs and particles from the air, but also inactivate them by means of UV filtration, photocatalysis and/or ionisation.
How often should I replace the filter pack?
On the 260i, 280 and 1200i, you should change the filter package after 3000 hours. With average use - only on during office hours - this amounts to once a year. The monitor shows the percentage of filter pack life remaining.
Replacing the filter package is very easy, by the way. If you do not feel up to it or if you would like us to replace the filters and check the mobile air purifiers one more time, please contact us, please contact one of our advisors.
Our company is closed due to the corona measures. Why should I buy air cleaners now?
By taking precautionary measures now, you give your employees the confidence that they will be able to return to the office safely. In addition, there is a good chance that relaxing the measures will result in a run on mobile air cleaners, which could increase the delivery time considerably.
How noisy are your mobile air purifiers?
The AIR8 is an extremely quiet air purifier. The noise level of the 260i Nano and 280 Nano is less than 45 dB (living room, bedroom, quiet office, quiet residential area, birds at sunrise, soft murmur in a classroom).
The 1200i Pro produces more noise because of its very large cleaning capacity, but it stays within the range 25 - 65 dB. For comparison: air conditioning (50-75 dB), normal conversation, washing machine (50-75 dB), dishwasher (55-70 dB).
What does a filter package cost?
A filter pack (pre-filter, HEPA13 filter and carbon filter) for the 260i Nano and 280 Nano costs only 40 euros (ex. VAT and shipping costs). You pay 100 euros for the filter pack of the 720i Edge and 150 euros for the filter pack of the 1200i PRO.
With a pressure drop of 52% through the HEPA filter and 26% through the carbon filter, it must be quite a motor...
It is indeed true that HEPA requires a lot of motor power.
This is also the reason why existing mechanical ventilation systems cannot handle a HEPA filter without increasing the motor capacity.

The AIR8 units deliver a calculated CADR which stands for Clean Air Delivery Rate. The m3 of purified air that AIR8 provides is not just the capacity of the motor, or just the capacity of the filter, but it is the effective 99.97% of filtered air that the unit is guaranteed to deliver and as a whole.

So yes, the AIR8 units have exceptionally good engines
.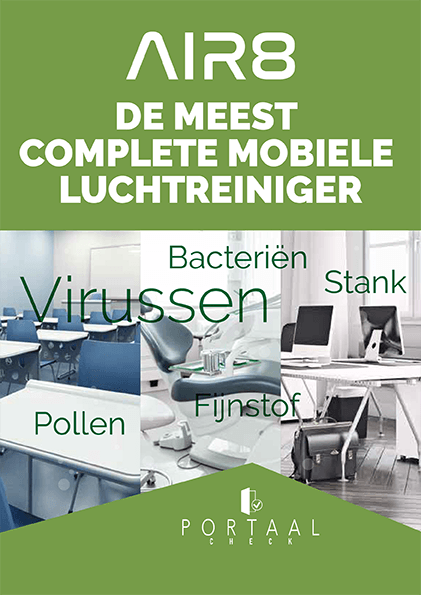 DOWNLOAD OUR AIR8 BROCHURE
Would you like to have all information about mobile air cleaners and the product data of the various AIR8 models at your disposal, with the possibility to send it to colleagues or print it out? This is possible with our digital brochure in PDF-form.
View the AIR8 mobile air cleaners here
Below you will find the AIR8 mobile air cleaners and maintenance products which can be ordered directly in our online shop. In the Portal Check web shop you will also find other products for creating a healthy work environment.
These companies are working on a healthy work environment