Mooi weer is natuurlijk lekker en fijn, maar bij hoge temperaturen heb je af en toe verkoeling nodig. Een ventilator, luchtkoeler of een airco is hiervoor de oplossing. Een airconditioner bij u op kantoor draagt door een aangename temperatuur en luchtvochtigheid bij aan de gezondheid en het goed functioneren van uw medewerkers.
voordelen monoblock airco
Mobiele airco in nederland erg populair
Mobiele airco's worden gebruikt voor korte periodes in kleine tot middelgrote ruimtes. Een verrijdbare airconditioner kun je een elke gewenste ruimte plaatsen of dit afwisselen. Zo houd je meerdere ruimtes koeler. Je kunt natuurlijk ook meerdere apparaten plaatsen.
Een airconditioner onttrekt warmte aan de lucht. Deze warme lucht wordt door een gesloten systeem gehaald en komt in aanraking met koelvloeistof. De warme deeltjes koelen af en koude lucht wordt de kamer weer in geblazen.
Bij het onttrekken van warme lucht wordt ook vocht uit de lucht gehaald. Een airconditioner werkt dus ook als luchtontvochtiger. Door het koelen van de warme lucht ontstaat er condens. Dit voer je af middels een slang die via het raam naar buiten gaat. Een mobiele airco werkt erg eenvoudig en is vaak goedkoper dan een splitunit-airco. Hierdoor zijn deze verrijdbare koelers in Nederland erg populair.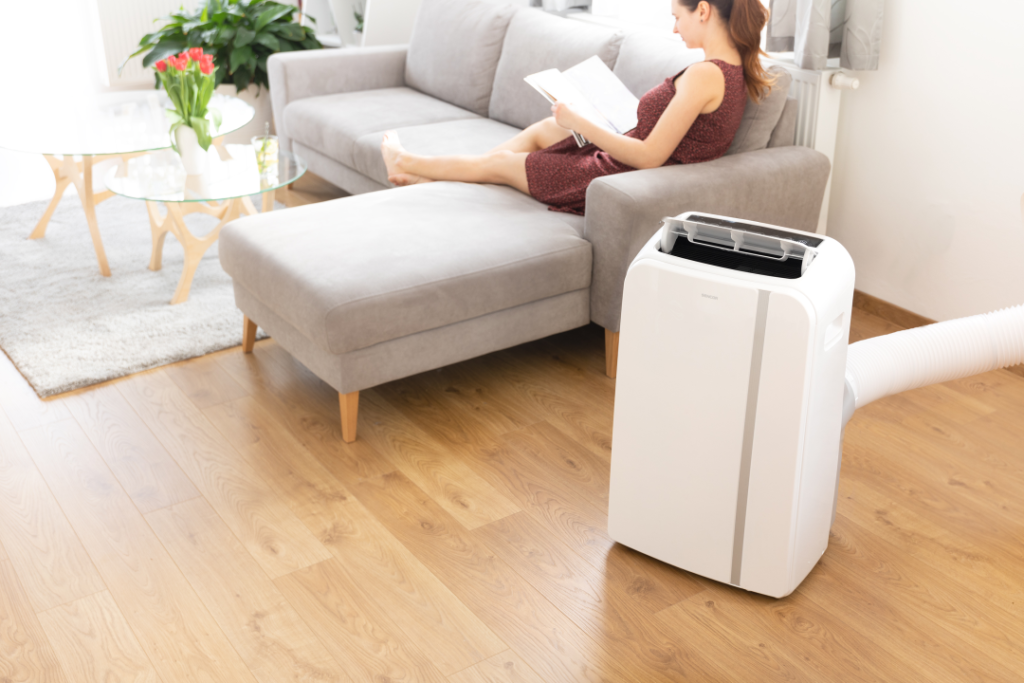 split-airco als energiezuinige verkoeler
Een split-airco is een airconditioning systeem waarmee je kleine ruimtes kunt koelen of verwarmen. De split unit airconditioner werkt op basis van koelvloeistof en zorgt voor een prettig binnenklimaat.
Een split-airco is ideaal wanneer je op zoek bent naar een multifunctioneel systeem. Daarnaast zijn deze apparaten erg energiezuinig.
Werking split-airco
Een split-airco werkt als een soort warmtepomp. Het is mogelijk om een ruimte zowel te koelen als te verwarmen.
Dit type airconditioner verkoelt door warme lucht uit een ruimte te onttrekken en deze warme lucht naar de buitenunit af te voeren. De warme lucht wordt naar binnen gezogen en naar een warmtewisselaar gebracht. De warmtewisselaar is gevuld met koelvloeistof van 6 tot 8 graden. Wanneer de warme lucht in contact komt met de warmtewisselaar, wordt de lucht omgezet in een koele luchtstroom die vervolgens de ruimte in wordt geblazen.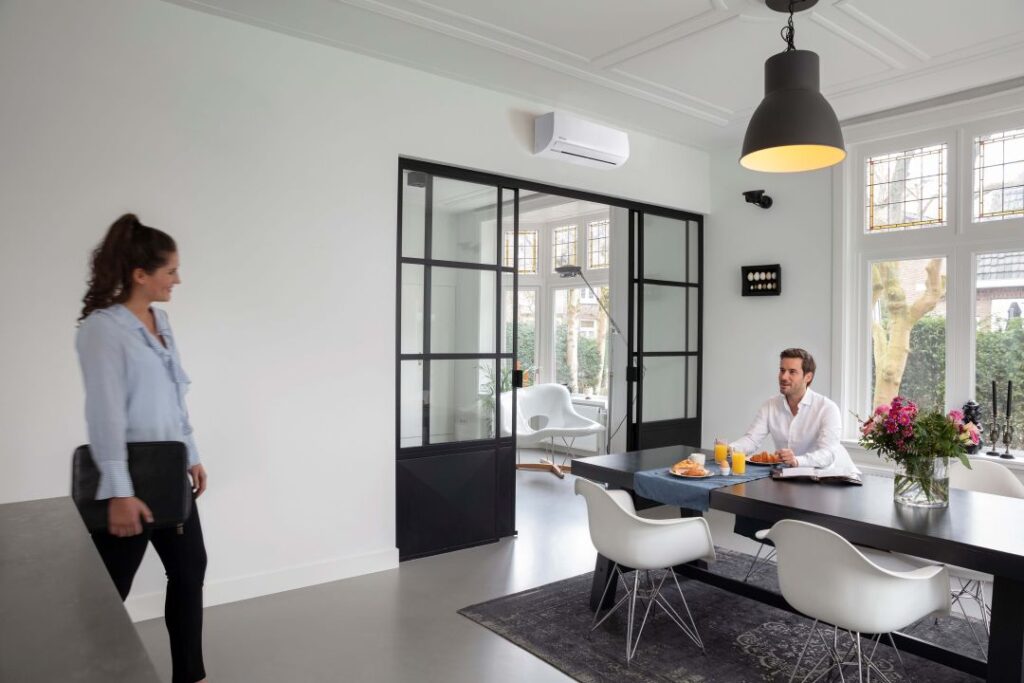 Monoblock airco voor optimaal rendement
Monoblock airco's zijn dé professionele oplossing als een split-airco niet kan of mag worden geïnstalleerd of niet gewenst zijn. Want zo'n buitenunit aan de gevel of op het dak is niet altijd even fraai.
Monumentale gebouwen? Appartementencomplexen met strenge VVE-regels? Kritische buren? Niet overal kan of mag zomaar een buitenunit van een split-systeem worden geplaatst!
Dan kan een Monoblock, met maar twee gaten door de muur (die ook nog eens netjes worden afgewerkt met fraaie roosters), vaak rekenen op goedkeuring. In veel gevallen hebben bijvoorbeeld VVE's geen bezwaren, zo blijkt in de praktijk.
Eenvoudig installeren
Eenvoudig te installeren, functioneel en gebruiksvriendelijk zijn drie sterke argumenten om een monoblock toe te passen. Geschikt voor vrijwel iedere situatie: woon- en slaapkamers, appartementen, kantoren, mantelzorg (aanbouw-)woningen, praktijkruimtes, vakantie accommodaties, computer-/serverruimtes, tijdelijke (modulaire) woningen, etc.
Een monoblock airco kan door vrijwel iedereen worden geïnstalleerd die enigszins handig is en er niet voor terugdeinst om twee gaten door de gevel te boren. Er is dus geen gespecialiseerde STEK-installateur nodig.