Het zit sta bureau staat op dit moment volop in de aandacht.  Deze in hoogte verstelbaar bureaus verminderen de kans op veel voorkomende kantoorklachten als RSI, hoofdpijn en rug- en nekpijn. Je kunt hieraan zowel zittend als staand comfortabel werken en – nog belangrijker – deze houdingen regelmatig afwisselen.
Afwisselend zittend en staand werken, dat kan met zit sta bureaus. Zo'n in hoogte verstelbaar bureau zorgt ervoor dat u eenvoudig en snel kunt schakelen tussen zitten en staan. En dat heeft een positief effect op de arbeidsproductiviteit én zorgt ervoor dat lichamelijke klachten als rug- of nekpijn minder vaak voorkomen.
 Combineer een zit sta bureau met een ergonomische bureaustoel om gezond en actief te werken.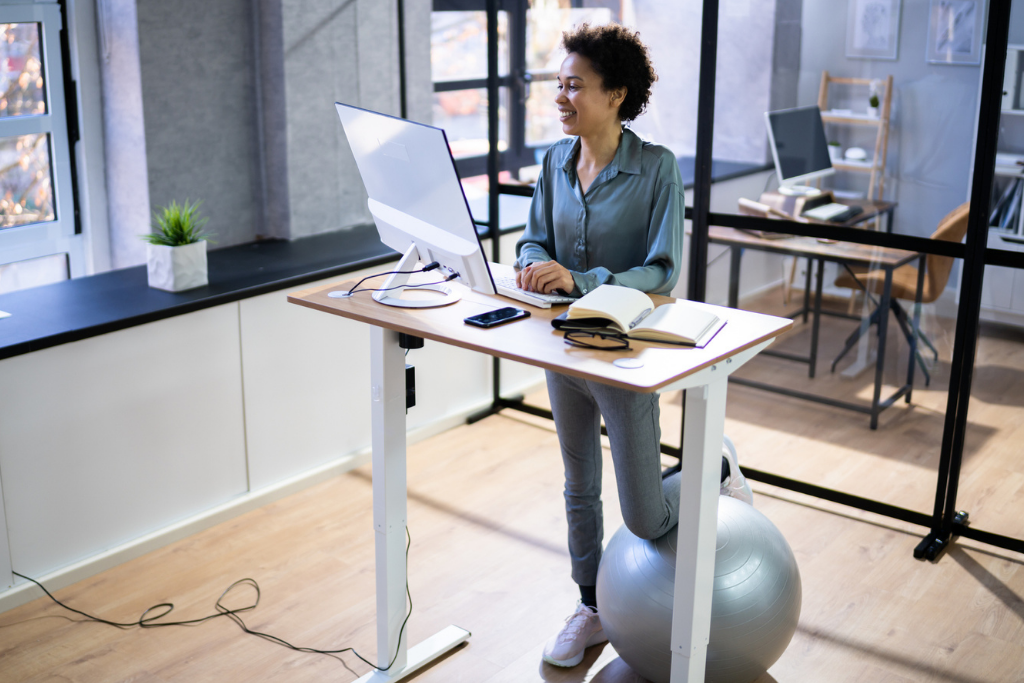 Verschil tussen instelbaar en verstelbaar bureau
Op de markt kom je instelbare en verstelbare bureaus tegen. Deze twee termen worden vaak door elkaar gebruikt, maar het zijn wel degelijk twee verschillende begrippen.
Instelbaar bureau
Bij in hoogte instelbare bureaus kan de hoogte van het werkblad aangepast worden. Meestal gaat dit door middel van een schroefsysteem of kliksysteem. Je kunt het instellen zien als een eenmalige actie. Deze bureaus worden over het algemeen op één vaste hoogte ingesteld. Ze worden ook wel zit zit bureaus genoemd. Voor een dergelijke oplossing wordt vaak gekozen als er vaste werkplekken zijn voor elke medewerker.
Verstelbaar bureau
Bij een in hoogte verstelbaar bureau is de hoogte van het werkblad vrij eenvoudig aan te passen. Dat kan handmatig met een slinger, met een elektromotor of door middel van een gaspomp. Die laatste optie is aan het verdwijnen.
Deze bureaus worden vaak gekozen waar geen vaste werkplekken zijn en meerdere medewerkers aan hetzelfde bureau werken. Deze werkplekken worden vaak flex-werkplekken genoemd.
Zit sta bureau
Als het bureaublad tot stahoogte kan reiken, dan wordt er gesproken van zit sta bureaus of van hoog laag bureaus. Hierdoor kun je de werkhouding regelmatig afwisselen, wat fysieke klachten voorkomt en verminderd.
Een bureau volgens arbo-normen
Om goed en prettig te kunnen werken moet het bureau een goede werkhoogte mogelijk maken. Er zijn een aantal ARBO-eisen die dit moeten garanderen.
In de Europese norm EN-527 zijn de eisen voor de afmetingen van een bureau vastgelegd. Naast de afmetingen zijn er ook veiligheidseisen geformuleerd.
Een bureau met een EN-527 normering is goed af te stellen mensen met een lengte tussen de 148 en 191 centimeter.
Hoogte werkblad
· Hoogte werkblad vaste bureaus tussen de 74-76 cm
· Hoogte werkblad bij zit-zit bureaus tussen de 65 – 85 cm; oudere bureaus 62 – 82 cm
· Hoogte werkblad bij zit-sta bureaus tussen de 65 en 125 cm (NEN EN norm).
Overige dimensies
· Rechte aanzitzijde minimaal 65 cm breed
· Bladdikte maximaal 55 mm (NEN EN norm)
· Vrije voetruimte tot 60 cm tafeldiepte; daarna minimaal 12 cm vrij hoogte bij de voeten
· Tussen ruimtes tussen de werkbladen minimaal 25 mm (tegen beknelling)
NPR 1813 norm
De Nederlandse NPR 1813 normering is een toevoeging op de Europese EN-527.
Als Nederlander kun je het beste de NPR-norm aanhouden, omdat de gemiddelde Nederlander langer is dan de gemiddelde Europeaan. In de NPR-1813 staan extra eisen om ook lange mensen veilig en gezond te laten werken.
Afmeting werkblad
De afmeting van het werkblad moet minimaal 120 cm breed en 80 cm diep zijn. Het oppervlak mag niet spiegelen.
Een niet instelbaar bureau moet 74 cm hoog zijn met een marge van 2 cm hoger of lager. Een verstelbaar bureau dient minimaal een hoogte tussen 65 cm en 130 cm hoogte te overbruggen.
De bladdikte mag maximaal 50 mm zijn.
Deze bedrijven werken aan een prettige werkomgeving