Work out smarter and get strong fast, both physically and mentally. That, in a nutshell, is what the Trojan Workout is all about. The workout was created by Martijn Bos, one of the most famous Krav Maga instructors in the world and owner of the Trojan Power Academy in Haarlem.
Bos travels all over the world to spread his method and train special Trojan instructors. He also wrote the book 'Trojan Workout - The Fast Track to a Sharper Mind and a Stronger Body', which has meanwhile been sold in more than twenty countries.
Fortunately, Bos can often be found in his own Trojan Power Academy in Haarlem. There we talk to him about his passions and dreams and about the importance of clean air.
You recently bought the Air8 air purifier. How do you like it?
"In one word: fantastic. Of course, everyone knows that a clean and fresh environment is very important when exercising. That is why our centre is equipped with an air-cleaning system that is second to none. Nevertheless, every morning the usual sports smells hung in the dojo. I always thought that was part and parcel of a sports hall. Now I know better.
"An acquaintance recommended the Air8 air purifier to me and you wouldn't believe it, but after one night I already noticed the difference. I came into the dojo in the morning and... I didn't smell anything. All I felt was fresh air around me. And it's so easy: you can put the air purifier anywhere you want."
Tell us a little about yourself. To begin with, what is Krav Maga eigenally?
"As a young boy I was always interested in martial arts. I have done just about everything there is to do in the field of self-defence in the Netherlands."
"One day I saw a Krav Maga demonstration and I was immediately hooked. Krav Maga - pronounced 'krah maga' - is a self-defence art that was developed in the Israeli army. Krav Maga is about feeling safe and securing yourself with tools that are always at your disposal: your physical strength, your mental strength and your fighting power."
"Characteristic is that during training very different realistic situations are dealt with, such as a kidnapping situation or attacks with a knife. Training also takes place at various locations, including outside the dojo."
"Like karate, Krav Maga has a degree system. In total there are three belt colours and fifteen levels. At the moment I am the highest certified Krav Maga instructor in the world outside Israel. I am affiliated to the IKMF (International Krav Maga Federation) which is represented in 88 countries worldwide."
What was your childhood like?
"I had a fairly difficult childhood. There was a lot going on, there was violence, I was bullied. At one point I started believing that I was less than others."
"The other side of that coin was that I started trying harder than everyone else. That drive eventually brought me a lot. When I was fifteen, my mother died of cancer. She taught me never to give up, to fight for my dreams and ideals."
"So I literally started fighting. At first, the feeling was 'I don't want to be afraid anymore', but gradually it turned into: 'This makes me really happy! I wanted to convey that feeling to others, which is why I went to the sports academy in The Hague."
"At that time I saw that Krav Maga demonstration on Eurosport and almost immediately after that we had a Krav Magna workshop at the academy. Not long after that I went to Israel."
"I got really into it and twenty years ago I founded my own training centre. Helena Academy, named after my mother."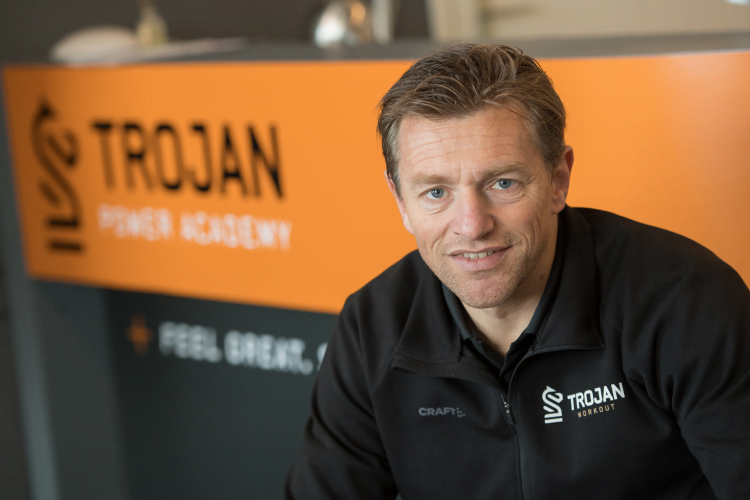 Now it is called the Trojan Power Academy. How did that come about?
"I have always continued to develop. Every time I came across a technique or a body of thought that I thought I could use in my training, I did."
"Think for example of hypnotherapy, personal coaching, empowerment and EMDR therapy. I've always continued to learn and that's how I've fine-tuned my training method."
"Eventually a completely new method emerged, which I named Trojan Workout. Indeed, derived from Helen of Troy, so still with a link to my mother."
"My method caught on, also abroad, and a book was published. Last year I was to travel to the Philippines, Costa Rica, China and Hong Kong, among other places. And I would go to Israel to get the very highest Krav Maga level, Expert 5."
"In other words, 2020 was going to be my year. But unfortunately, corona threw a spanner in the works."
Oh, that's no fun at all!
"No, it wasn't. As a gym, we had a very hard time. Subscriptions expired and time after time we had to adapt to the new rules. It was a horror."
"Yet positive things have also come out of it. That is, after all, also Trojan power: don't throw in the towel, don't let yourself be thrown out. Instead, focus on what is possible and make use of the resources that are available. That has worked out well for us.
"Firstly, through corona we have been able to show the added value of our method, that it really makes you stronger mentally and physically. Secondly, through corona, we know that training online and outdoors is also very effective."
"We have even developed an app, the Trojan Workout App. Thirdly, corona made me realise that the name Trojan Power Academy better suited to everything we do now and in the future. Hence the name change. We have now trained eighty instructors in five countries and we will soon be adding more."
What do you want to achieve?
"My mission is to share my thoughts with as many people in the world as possible, so that like me, they have the opportunity to grow physically, mentally and emotionally and become an ever better version of themselves."
"The beauty of the Trojan Power Method is that you don't need a background in self-defence or fitness. You don't even need to be in top condition. The techniques you are taught are based on how you already function. It is not a competition, you are not competing against someone else. You do push your own limits. Everyone can do it, men, women, fat, thin, young, old.
"What is important is that you show up for every lesson and that you are sufficiently motivated. A lesson is a thirty-minute investment. What you get in return is self-confidence, self-insight, a sense of security, a healthier and fitter body..."
And clean air...
"And clean air indeed, haha. As I said, the air quality in our centre was already good."
"But what this device managed to do in one night, I find truly unimaginable. That's why I immediately bought one for my home. I'm really happy with it and so are the people who train here."
"To people who are still a bit afraid to train indoors, I would say: come along and experience it yourself. The air is guaranteed to be pure. All possible dust particles, pollen, fine dust, soot and germs are captured from the air and filtered through a certified six-stage filter. You just notice the difference. The air is much purer, much cleaner. Really, I can recommend it to everyone."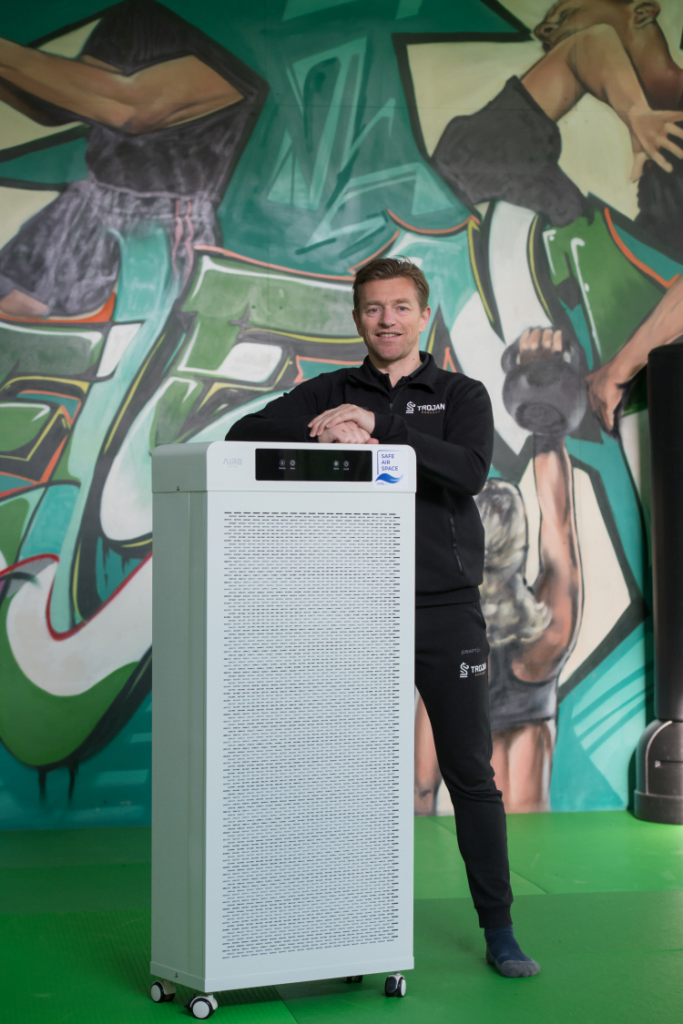 read why these entrepreneurs also chose air8 air cleaners