De corona lollytest maakt de monstername bij een zelftest prettiger en eenvoudiger. Het wattenstaafje hoeft u slechts over de binnenkant van de wang te rollen.
De lollytest is net als alle andere zelftesten een antigeen test. De antigeentest detecteert een viraal eiwit en kan daarmee in 15 minuten laten zien of het coronavirus aanwezig is. De betrouwbaarheid is met 96,5 procent vergelijkbaar met andere sneltesten.
Eenvoudige monstername
De lollytest wordt zo genoemd omdat u het teststaafje als een lolly in de mond steekt en langs de binnenkant van de wang rolt. Elk kind kan zich snel een lolly voorstellen, waardoor deze zelftest laagdrempelig is om te gebruiken. We raden lollytests aan omdat de monstername veel eenvoudiger is en en niet zo pijnlijk als de diepe monstername in keel of neus.
Met een kort wattenstaafje neemt u een uitstrijkje uit de mondholte. Het speekselstaafje dompelt u in de extractie-oplossing in het testbuisje. Na goed mengen laat u twee druppels vallen op de testkaart. Na een kwartier weet u of de coronatest positief of negatief is.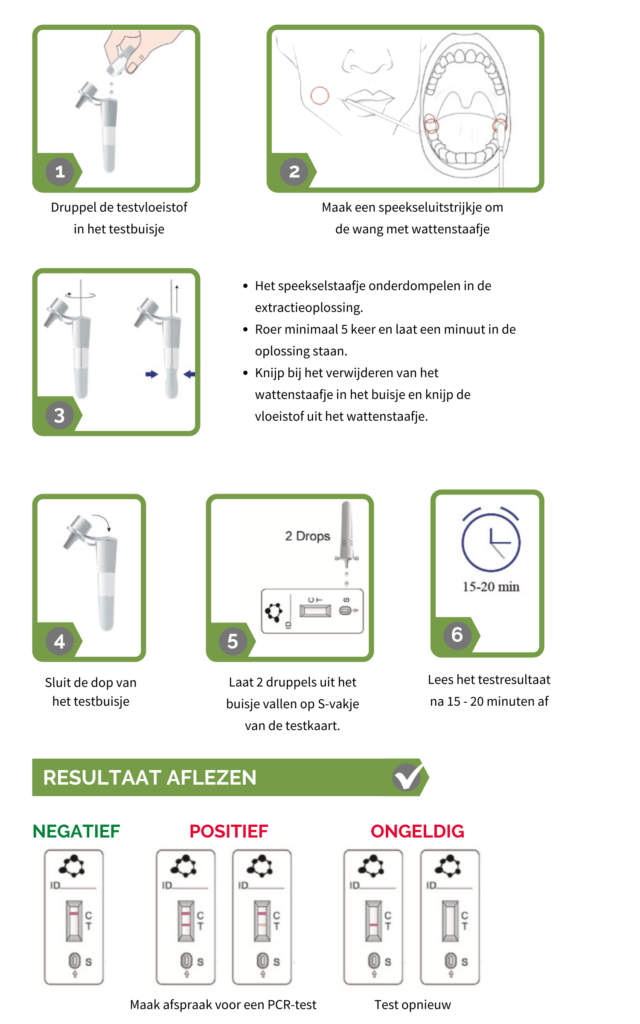 Kinderopvang en verpleeghuizen
Deze eenvoudige monstername maakt deze sneltest bijzonder geschikt voor ouderen, kinderen en mensen met een handicap. De lollytest is daarom aan te bevelen voor onder meer kinderopvang, scholen en verpleeghuizen.
Het AD besteedt ook aandacht aan deze nieuwe manier van monstername, die ook wordt gebruikt bij de zogenaamde sabbeltest.
Wij volgen de ontwikkelingen van coronasneltests op de voet en voegen regelmatig nieuwe, officieel in Duitsland geteste, zelftests toe aan ons assortiment.