Een juiste verlichting van de werkplek draagt bij een aan  productiviteit, welbevinden en gezondheid. De Broadwing werkplekverlichting maakt de kantoorverlichting helemaal af. Deze design bureaulamp zorgt voor licht op maat op elke werkplek.
Goede kantoor-verlichting
De Broadwing werkplekverlichting is een premium bureaulamp die uniek is in zijn soort. In tegenstelling tot het ongelijkmatige licht van traditionele bureaulampen wordt het licht van deze lamp gelijkmatig verdeeld, waardoor het uitermate geschikt is als hoofdverlichting van de werkplek.
De lamp levert een helder licht dat met behulp van een 3-staps switch is in te stellen naar jouw wensen. Zo kies je tussen 3 lichtsterktes en 3 kleurtemperaturen, die zorgen dat je productiever wordt en minder mentaal vermoeid raakt.
Deze design bureaulamp heeft een professionele en nette uitstraling. De werkplekverlichting heeft een flexibele zwanenhals en een zeer lange levensduur van maar liefst 40.000 uur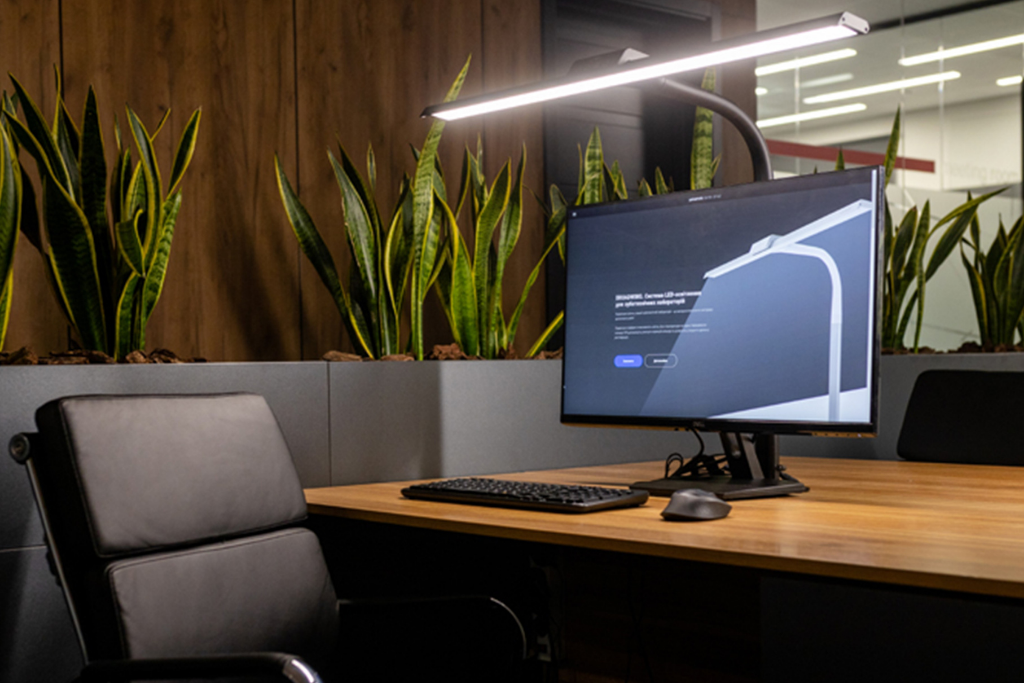 Normen werkplekverlichting
Voor werkplekverlichting gelden normen, als onderdeel van de Arbeidsomstandighedenwet. Uitgangspunt is dat mensen zoveel mogelijk gebruik maken van daglicht tijdens het werken. Is dit echter niet mogelijk dan moet dit aangevuld worden met het juiste kunstlicht.


Begrippen
Om te weten hoeveel licht een lamp uitstraalt en waar het licht terecht komt en/of hoe deze wordt waargenomen is het handig om een aantal belangrijke begrippen te kennen. 
Lichtstroom is de hoeveelheid licht die door een lichtbron wordt uitgestraald in alle richtingen. Deze wordt uitgedrukt in lumen (lm).

Lichtsterkte is de hoeveelheid licht (lumen) die op een bepaald vlak terecht komt en wordt uitgedrukt in lux (LX). Dit nemen we echter niet zo waar. De mate van opname wordt bepaalt door de reflectie van het licht op het vlak.

Ook de gelijkmatigheid, lichtdistributie (Uo) and the kleurweergave (C.R.I/Ra) zijn aspecten die belangrijk zijn bij goede verlichting.

Ergonomische NEN eisen

Voor deze aspecten gelden binnen de ergonomische NEN eisen minimale waardes. Zo hoort de lichtsterkte op de werkplek minstens 500 lux te zijn.

Hierbij wordt er vanuit gegaan van een persoon met een gemiddeld zichtvermogen. Oudere en mensen met een verminderd zichtvermogen kunnen tot wel meer dan twee keer zoveel licht nodig hebben.
Hoeveel lumen er van een lamp op de werkplek terecht komt hangt van veel factoren af, zoals de lichtbron, de plaatsing hiervan in de ruimte en de kleuren van de omgeving.
Deze bedrijven werken aan een prettige werkomgeving