Horeca Flanders has drawn up guidelines and protocols per sector in which it is clearly described how a hotel and catering business owner should prepare his or her establishment for a restart after the lockdown.
Restart catering
The sector federation has made posters for the sectors Hotel and Lodging, Food and/or Entertainment, Drinking Places and Party Rooms and Catering. A checklist of conditions has been drawn up for each zone in a venue and will apply from 27 June 2021.
They can be downloaded from the dedicated website Restart catering. Here you will also find the Ventilation Action Plan.
Air quality standard
The use of an air quality meter (CO2 meter) is mandatory in the public areas of a catering establishment where consumption takes place. An exception is made for an open terrace. The air quality standard is 900 ppm CO2.
Between 900 and 1200 ppm CO2, the business owner must have an action plan to improve air quality through extra ventilation or air purification. Above 1200 ppm, the business must be closed immediately.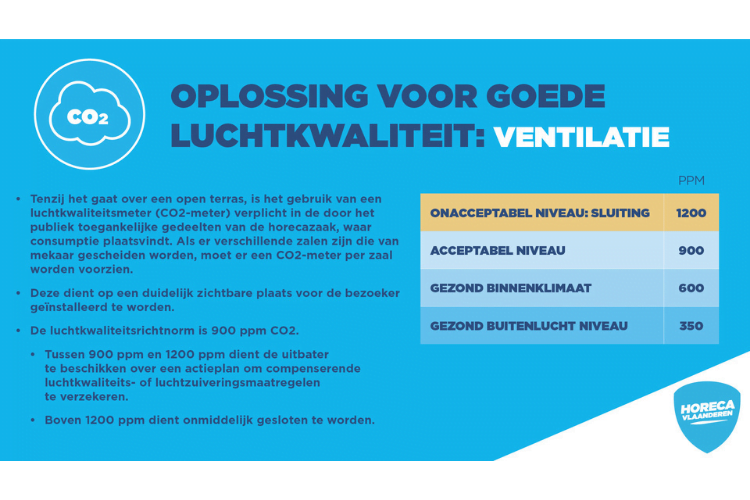 Reliable solution
A simple, fast and reliable solution is the combination of an air quality meter with a mobile air cleaner, which automatically keeps the content of germs and harmful substances at a responsible level. Read more about this solution here.
Related products