Eenvoudig te verplaatsen, altijd op de juiste hoogte en voorzien van zinvolle communicatie. De Safeway mini scanner is nu ook te verkrijgen in combinatie met een display-standaard. U hoeft de scanner niet zelf te monteren op een wand en u kunt de display met de koortsscanner ook verhuizen naar een andere positie.
Bedrukking op maat mogelijk
De displaystandaard is 180 centimeter hoog en is leverbaar in uitvoeringen van 40 en 60 centimeter breed. De mini-scanner hangt altijd op de aanbevolen hoogte van 135 centimeter.
De voorzijde is bedrukt, achterzijde en zijkanten zijn wit. We kunnen de display ook bedrukken met uw eigen logo of layout.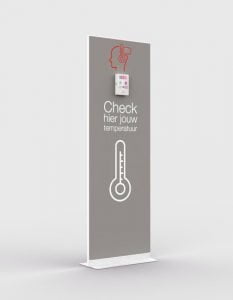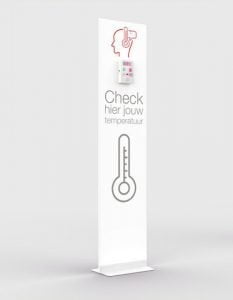 Ook met dispenser
Bij onze check & wash displaystandaard hebben we ook een contactloze dispenser met desinfecterende gel toegevoegd. Koortscontrole en hygiëne in één! Uw personeel of gast doet alles zelf.