The ultimate combination: a smart air quality meter that controls a mobile air cleaner. With the introduction of the AIR8 Guard Edge, this is possible.

Now available in combination for only € 499, view the combination deal here.
Carefree solution
The result: a worry-free solution for anyone who wants to treat their guests and employees to healthy indoor air. The Guard Edge air quality monitor monitors the most important values - CO2, particulate matter, TVOC and HCOH - and controls the smart mobile air cleaners that provide responsible values.
Smart air cleaners
The i-models of AIR8 are already 'smart', i.e. connected to WiFi and operated with an app. Now there is also a smart air quality meter.
The AIR8 Guard Edge can also connect to the wireless Internet and thus control the smart AIR8 mobile air purifiers. The measured values can also be read remotely via the app.
99.97 per cent
Excessive levels of fine dust? The mobile air cleaner kicks in and filters 99.97% of the very small dust particles from the air. It does the same for harmful gases.
CO2 filtration
Do mobile air purifiers also filter CO2 from the air? No, they do not. Nor is that the point. The CO2 content says something about the degree of ventilation and this must ensure that the aerosol content, for example - very small droplets that carry viruses and bacteria - is reduced. What the AIR8 air purifiers do is to remove and render harmless these germs.
See this combination in action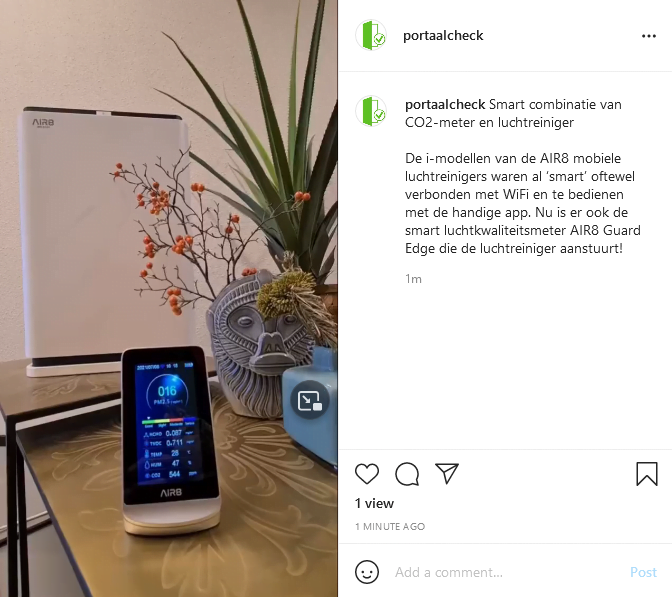 Related products