Een rookmelder heeft hoofdzakelijk één taak, namelijk het melden van brand. De melder zorgt ervoor dat je bij brand tijdig gewaarschuwd wordt en dat je dus op tijd kunt vluchten.
WaarOP letten bij aankoop melder
Soort rookmelder
Vervangbaar of niet- vervangbaar batterij
Levensduur batterij
Certificaten
Sterkte alarmsignaal
Testknop
Vanaf juli 2022 is een rookmelder op elke etage van je woning wettelijk verplicht
Wist je dat je bij brand maar een paar minuten hebt om veilig buiten te komen? De verplichting houdt in dat op iedere etage waar zich een verblijfsruimte of afgesloten ruimte bevindt, minstens één rookmelder (bij voorkeur in de vluchtweg) geplaatst moet worden. Wij adviseren ook in de slaapkamers rookmelders te plaatsen omdat je tijdens het slapen de rook niet ruikt. Door de rookmelders wordt je bij brand zo snel als mogelijk gewaarschuwd en win je kostbare extra vluchttijd! 
Wat is een goede rookmelder?
In principe volstaat een melder met batterijen. We raden echter niet aan om een goedkope melder aan te schaffen waarvan de batterij na een jaar of twee jaar vervangen moet worden (vaak zijn deze batterijen ook niet vervangbaar). We adviseren je een rookmelder aan te schaffen met een 10-jarige batterijduur en de wettelijke de normering (NEN-14604). Dan hoef je de batterij van de rookmelder de komende 10 jaar niet te vervangen. De rookmelders hebben ook een levensduur van 10 jaar, dus na die tijd vervang je heel eenvoudig de gehele rookmelder. Bij grote woningen raden we aan voor rookmelders te kiezen met een koppelfunctie. Hierdoor gaan alle rookmelders af als er één af gaat.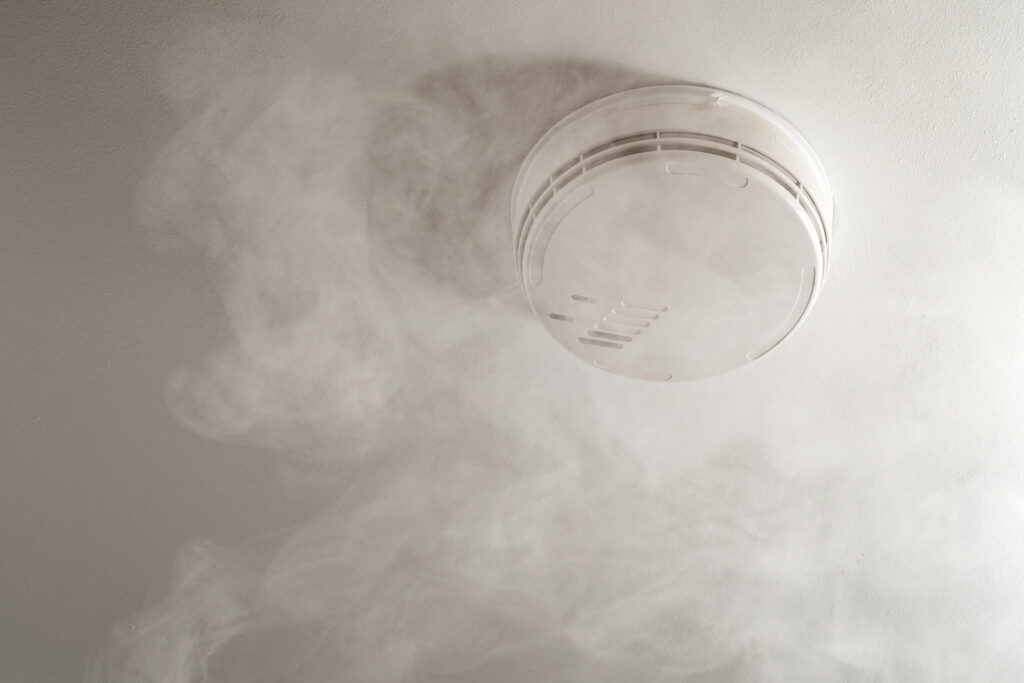 Welke rookmelders zijn er?
Optische rookmelder (Rook detectie)

 

Hitte rookmelder (detectie bij hitte ook wel thermische rookmelder)

 

Gekoppelde rookmelder (koppel je rookmelders aan elkaar. Gaat één rookmelder af, dan gaan ze allemaal af.

 

Slimme rookmelder (Sluit je melders aan op Smart Home en ontvang push-berichten op je telefoon bij een alarm)

Rookmelders via het stroomnet (Werkt op het stroomnet, heeft vaak een backup batterij)

 

Rookmelder en Koolstofmonoxide in één (combimelder)

 
Waar plaats ik mijn rookmelders?
De beste plaats om een rookmelder op te hangen is aan het plafond omdat rook opstijgt. Dit is de plek waar de rookmelder het snelste alarm kan geven indien er een brand ontstaat. Bevestig minimaal een rookmelder op elke verdieping, bijvoorbeeld op de overloop, op de gang of in de hal. Wij raden aan ook de slaapkamers te voorzien van een rookmelder. Er zijn ook plaatsen waar je de rookmelder niet moet ophangen zoals bijvoorbeeld in de badkamer. Lees altijd de gebruiksaanwijzing van de rookmelder voordat je deze ophangt. 
Rookmelders redden levens! 
These companies are working towards a PRETECTIVE working environment